Sundar Pichai Birthday Today 12 July 2021
Pichai, the CEO of the world's number one search engine Google, will celebrate his 49th birthday on 12 July 2021 . Sundar Pichai was born in the year 1972 in Madurai, Tamil Nadu. His father was an engineer in the British company.
#SundarPichai #HappyBirthdaySundarPichai #Google @sundarpichai @Google @GoogleIndia
👉https://t.co/juIySiWs6z pic.twitter.com/e5QIkDomdo

— Dr. Vivek Bindra (@DrVivekBindra) June 10, 2021
Sundar pichai early life and education
Sundar Pichai did his bachelor's degree from IIT, Kharagpur. He had won silver medal in his batch. In the US, Sundar did his MS from Stanford University and MBA from Warton University. Pichai was known as the Siebel Scholar at the University of Pennsylvania.
Sundar Pichai joined Google in 2004. At that time he was the Product and Innovation Officer. Sundar was the Senior Vice President (Android, Chrome and Apps Division). He was made Senior VP (Chief of Product) of Google. He has played a major role in the development of the Android operating system and Google Chrome launched in 2008.
In 1995, Sundar Pichai lived in Stanford as a paying guest due to financial constraints. To save money, he used old things, but did not compromise on studies. He wanted to pursue a PhD but circumstances became such that he had to work as a product manager at Applied Materials Inc. He was not even recognized as a consultant in the famous company McKinsey.
Sundar Pichai Birthday and interesting facts:  Sundar's first project Google's search toolbar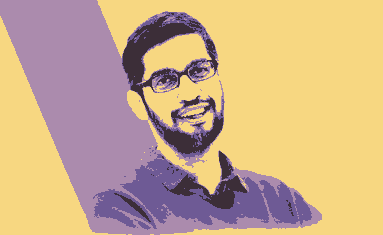 He joined Google on 1 April 2004. Sundar's first project was to improve Google's search toolbar in the product management and innovation arm to drive traffic from other browsers to Google. During this time he suggested that Google should launch its own browser.
With this same idea, he came in the eyes of Google founder Larry Page. It was from this idea that he started getting real recognition. From 2008 to 2013, the successful launch of the Chrome operating system took place under the leadership of Sundar Pichai, and after that his name became a worldwide name from the Android market place.
Sundar is the creator of Google Drive, the Gmail app and the Google Video codec. The Chrome OS and Android apps created by Sundar propelled him to the top of Google. The Android division came to him and he also contributed to further Google's other business. It was because of Pichai that Google made Samsung a partner.
When Sundar joined Google as Product Manager, he did research for Internet users so that the users who wanted to install could get installed quickly. Although the job was not much fun, they proved themselves to be better liaisons with other companies to improve the toolbar. He was made director of product management. When Larry Page became CEO of Google in 2011, he immediately promoted Pichai to senior vice president.
When was Sundar Pichai appointed as CEO?
On August 10, 2015, he was elected as the CEO of Google Company. Also, Pichai is currently the CEO of Google's parent company Alphabet. He was given this responsibility in December 2019.
Sundar pichai salary
Sundar Pichai's salary has also increased a lot since becoming the CEO of Alphabet and today he is the highest paid CEO in the world.
During the year 2020, Sundar Pichai's base salary was around Rs 15 crore ($ 2 million). Apart from this, he gets about 37 crore rupees ($ 5 million) as other allowances. If these two are combined, then their total salary is about 52 crores ($ 71 million).