iPhone 15 Pro and Pro Max: Unveiling the Hidden Secrets Tips

Welcome to the world of the iPhone 15 Pro and Pro Max, where a treasure trove of exciting features and hidden tricks awaits you. In this article, we're going to dive deep into the fun stuff – the tips and tricks that make your iPhone 15 Pro Max experience truly magical.
The Awesome Action Button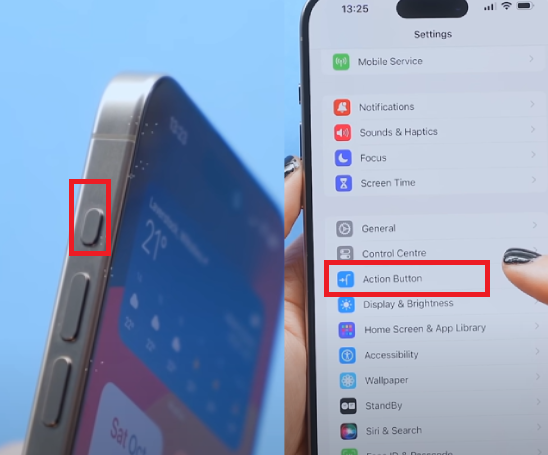 Picture this: you've got an action button on your new iPhone. By default, it's set to silence your phone when you press and hold it. But here's where it gets cool: you can change its superpower. Options include Focus modes, camera torch, voice memo, and more. But, the real gem is setting it to Camera shortcuts. Now, with a quick press and hold, your camera is at your fingertips, ready to snap a pic or shoot a video in a flash.
Your Personalized Shortcuts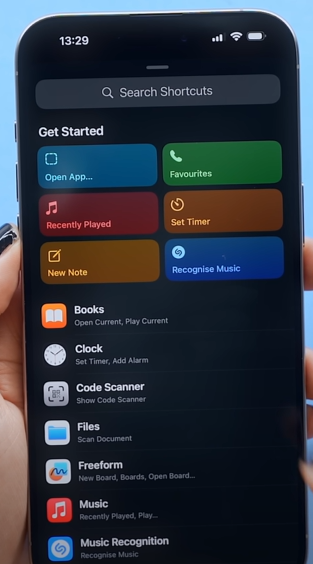 But let's take personalization to the next level. You can set the action button to "Shortcut Cuts." After choosing your favorite app, like Spotify, every time you hold down the action button, it'll launch that app instantly. This trick works like magic with many apps, making your iPhone truly yours.
USB-C: A Game Changer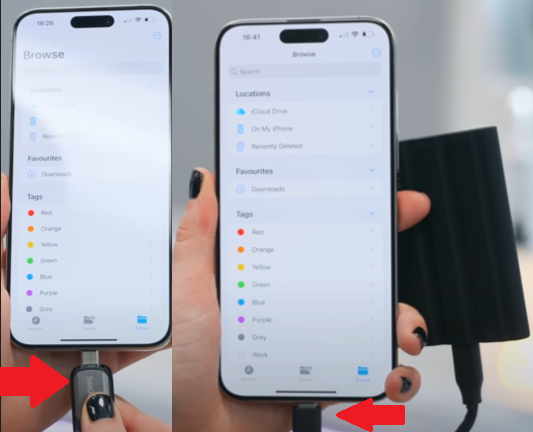 Now, here's something big. The iPhone 15 Pro and Pro Max come with a USB-C port. Think of it as your passport to amazing possibilities. Plug in a USB-C flash drive or hard drive, and you can access and manage your files right in the Files app. No more storage issues; it's a lifesaver.
A Bigger Screen for Your iPhone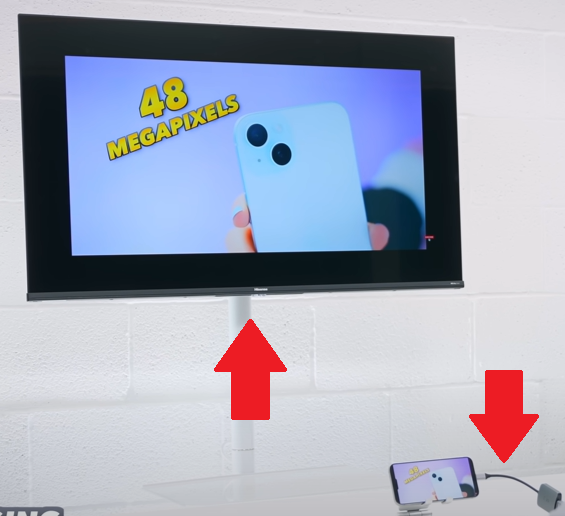 Imagine connecting your iPhone to a larger screen. You can do that with a USB-C to HDMI adapter. It's like having a home theater in your pocket. You can customize the connected display, which is amazing for presentations, streaming, or just getting more screen real estate.
Add Stickers, Anyone?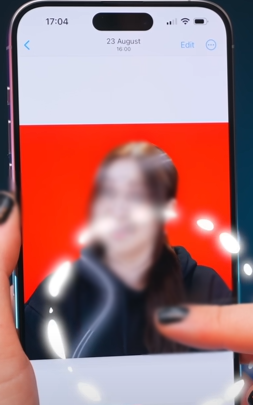 Ever thought about making your own stickers from photos? Now you can. Just tap and hold on a photo in the Photos app, and you can turn it into a sticker. But the cool part is when you tap "ADD effect," you can choose from different effects to make your stickers pop.
Adjust Your Voice Notes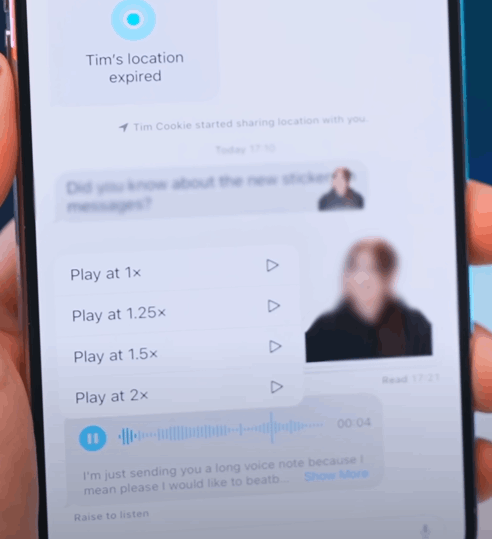 Love sending voice notes? You can now adjust their playback speed. It's perfect for those super long voice notes or podcasts. Speed things up or slow them down, it's your call.
Quick Photo Sharing in Messages
Sending photos in Messages just got quicker. Instead of opening the Photos app, try this: tap and hold the plus icon. Boom! The Photos app opens right away, and you can pick your photo in a flash.
Find Friends and Family Effortlessly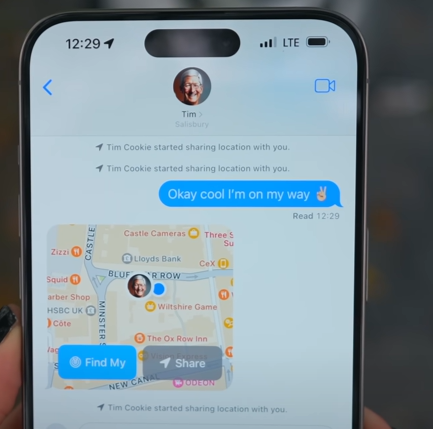 With iPhone 15's exclusive feature, you can share your exact location with friends and family through Messages. It's a lifesaver at crowded events. You both need iPhone 15 for this magic to work.
NameDrop: Share Contacts Instantly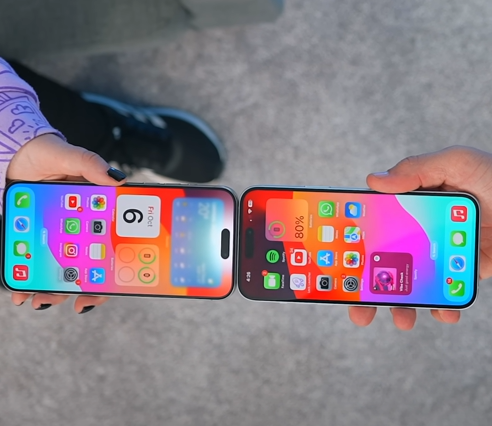 Need to share contact details? Just tap your iPhone to another, and watch the magic unfold. It plays a cute animation and offers to share contact details. But the fun doesn't stop there; you can share websites, photos, videos, and more using the same trick.
Pro Camera Tricks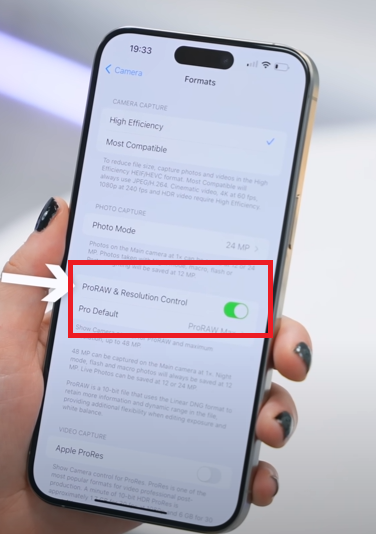 Your iPhone 15 Pro Max camera is a beast. It's got seven different lenses for all your photography needs. You can even force it to take 48-megapixel photos and record ProRRaw videos, just like a pro camera. It's a game-changer for mobile photographers and videographers.
New Ringtones and Text Tones
Finally, some fresh sounds for your iPhone. After a decade, we have new ringtones. They're joined by a batch of new notification tones. Your iPhone just got a fresh voice.
Offline Maps for Your Adventures
Traveling? Download offline maps with a few taps. No more worrying about losing your way when you're off the grid.
More Secure Private Browsing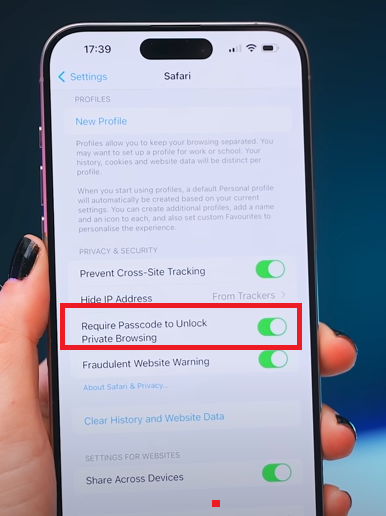 For extra privacy, you can now require a passcode to unlock your private browsing tabs in Safari. It's like having a secret vault for your online activities.
Browsing with Added Privacy
Boost your online privacy by switching your default search engine to DuckDuckGo in Safari. It's a safer way to browse the web without prying eyes.
Summary
Your iPhone 15 Pro and Pro Max offer an array of features and hidden tricks that can take your smartphone experience to a whole new level. From the versatile action button to the power of the USB-C port, these tips and tricks will help you unlock the full potential of your iPhone 15 Pro. Explore, have fun, and enjoy the magic.