In the ever-evolving landscape of communication apps, Google Duo has consistently stood out, offering users a seamless way to make video calls and stay in touch. And now, Google Duo brings even more convenience and excitement to the table with its latest feature: Share Screen.
you're on a video call with your family, reminiscing about past vacations, and you wish you could easily show them your collection of travel photos. Or you're collaborating on a work project, and need to go over a complex spreadsheet with your colleague.
This is where Google Duo's Share Screen feature comes into play.
The Share Screen feature does exactly what its name suggests – it allows you to share your screen with the person you're talking to. Whether it's photos, videos, documents, or even your browsing session, the feature lets the person on the other end see what's on your screen in real-time. This takes virtual communication to a whole new level, making conversations more interactive and engaging.
Imagine guiding your technologically challenged parent through setting up their email, step-by-step, while they see exactly what you're doing on your own screen. No more confusing instructions over the phone – just a direct visual guide that simplifies the process.
And here's the best part: activating Share Screen on Google Duo is a breeze.
While on a video call, you'll find the Share Screen option right alongside other call controls. A couple of taps and you're ready to showcase your world to the person on the other end.
Whether it's for personal, educational, or professional purposes, the Share Screen feature has immense potential. It not only enhances your conversations but also transforms Google Duo into a versatile platform for work and play. Collaborative projects, tech support, photo sharing, trip planning – the possibilities are endless.
In the grand scheme of things. Google Duo's Share Screen feature underscores. How modern technology continues to bridge gaps and make our lives more connected. It's like inviting someone to take a virtual tour of your screen. And it's changing the way we communicate one share at a time. So, the next time you're on a Google Duo call, don't forget to try out the Share Screen feature – it's a window to a new dimension of sharing and caring.
Sharing your screen during a Google Duo video call is simpler than you might think. Here's a step-by-step guide to help you navigate the process.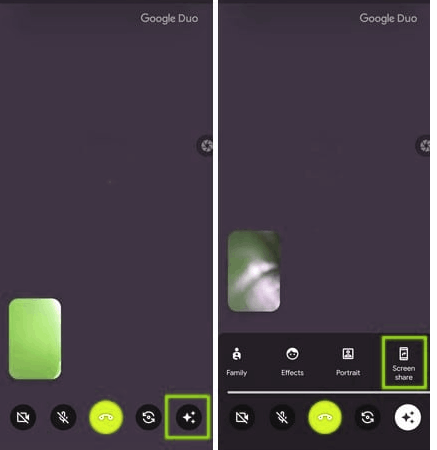 Initiate a Video Call: Start by making a video call to the person you want to connect with. Wait for them to answer and for the call to establish.
Access Call Controls: Once the call is connected, you'll see a set of call controls on the screen. These controls typically include options like switching between front and rear cameras, muting the microphone, and ending the call.
Locate Share Screen Option: Look for the "Share Screen" option among the call controls. It's usually represented by an icon that looks like a rectangle with an arrow pointing upward, indicating sharing.
Tap on Share Screen: Once you've located the Share Screen option, simply tap on it. This action will prompt Google Duo to request permission to capture and share your screen.
Grant Screen Sharing Permission: A pop-up will appear asking for your permission to capture and share your screen. You need to grant permission for the feature to work.
Begin Screen Sharing: After granting permission, your screen will start to be shared with the person on the other end of the call. They will be able to see whatever is displayed on your screen in real-time.
Pause or Stop Sharing: During screen sharing, you'll see an indicator at the top of your screen to remind you that your screen is being shared. You can also find an option to pause or stop sharing there. If you want to show something else or stop sharing altogether, use these options.
End Screen Sharing: To end the screen sharing session, tap on the "Stop Sharing" button, usually located near the top of the screen. This will stop sharing your screen and return the call to its regular video mode.
Continue Your Call: Once you're done sharing your screen, you can continue your video call as usual. You can chat, discuss, and interact while your screen remains private.
Remember
while the steps for screen sharing are relatively uniform, the exact placement of icons and options might vary slightly based on the device you're using and the version of Google Duo. But generally, the process remains consistent across devices and platforms.
So, whether you're explaining a presentation, showing off your latest photos, or helping someone troubleshoot, Google Duo's screen sharing feature adds an extra layer of interactivity and convenience to your video calls.