Why We Love Huawei P40 Pro Specs (And You Should, Too!)
Discover the impressive specs of the Huawei P40 Pro: Stunning OLED display, powerful Kirin 990 5G processor, quad-camera system co-engineered with Leica, and more. Stay connected with 5G, enjoy the convenience of fast and wireless charging, all in a sleek design.
When it comes to cutting-edge smartphones. The Huawei P40 Pro stands at the forefront, showcasing a remarkable blend of innovation, style and performance. It's not just a phone. It's an embodiment of Huawei's unwavering commitment to redefining what's possible in the world of technology.
Sleek Design and Display:
The Huawei P40 Pro boasts a stunning 6.58-inch OLED display that curves gracefully along the edges, offering an immersive viewing experience. With a resolution of 2640 x 1200 pixels, every image comes to life with vibrant colors and sharp details. The near bezel-less design not only enhances the visual appeal but also provides more screen real estate for your content.
Incredible Performance:
Under the hood, the P40 Pro is powered by the Kirin 990 5G chipset, ensuring smooth multitasking, efficient power consumption, and blazing-fast 5G connectivity. Whether you're streaming videos, playing graphics-intensive games, or switching between multiple apps, the P40 Pro delivers a seamless experience.
Revolutionary Camera System: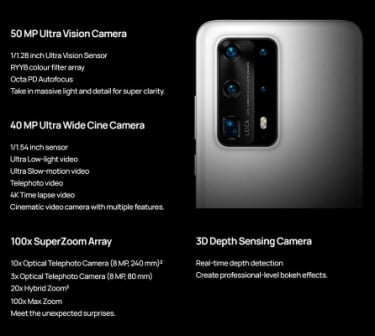 Huawei's prowess in photography is on full display with the P40 Pro. The quad-camera setup co-engineered with Leica includes a 50 MP main sensor, a 40 MP ultra-wide-angle lens, a 12 MP periscope telephoto lens, and a ToF (Time of Flight) depth sensor. This combination allows you to capture everything from breathtaking landscapes to intricate details, even from a distance. The AI-powered image processing takes your photography skills to the next level.
Astounding Battery Life:
Worried about running out of battery? The P40 Pro houses a robust 4200 mAh battery that keeps you connected throughout the day. The device supports 40W fast charging, ensuring that you spend more time using your phone and less time charging it. Additionally, it supports 27W wireless charging and reverse wireless charging, making it a convenient power hub for your other devices.
Enhanced
Software Experience:
Running on Android 10 with Huawei's EMUI 10.1 skin, the P40 Pro offers a smooth and intuitive user experience. While the absence of Google services might require a slight adjustment, Huawei's AppGallery provides a growing collection of apps to cater to your needs.
Security at Its Best:
Your privacy matters, and the P40 Pro takes it seriously. The in-display fingerprint sensor and facial recognition technology provide convenient yet secure ways to unlock your device and protect your data. It's a reassuring feeling to know that your personal information is in safe hands.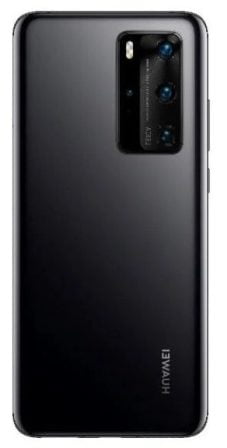 Conclusion: Embracing Innovation and Style
In a world where innovation is the norm. The Huawei P40 Pro stands out as a testament to what's possible in the realm of smartphones. Its impressive specs, stunning design, and commitment. To pushing boundaries make it a worthy contender for those who crave both style and substance in their devices.
With the P40 Pro, Huawei invites you to explore a world of possibilities right at your fingertips. Whether you're a photography enthusiast, a tech aficionado, or someone who simply demands the best from their smartphone, the Huawei P40 Pro is a device that's ready to redefine your mobile experience.
In a symphony of cutting-edge technology, sophisticated design, and user-centric features, the Huawei P40 Pro isn't just a smartphone; it's an extension of your lifestyle. It's a companion that empowers you to capture, connect, and create without limits. So, if you're ready to embark on a journey of innovation, style, and performance, the Huawei P40 Pro is waiting to elevate your smartphone experience.
The Huawei P40 Pro Specs
| Feature | Specification |
| --- | --- |
| 📱 Display | 6.58-inch OLED, 2640 x 1200 pixels |
| 🚀 Processor | Kirin 990 5G |
| 📸 Camera | Quad-camera setup co-engineered with Leica |
| | – 50 MP main sensor |
| | – 40 MP ultra-wide-angle lens |
| | – 12 MP periscope telephoto lens |
| | – ToF (Time of Flight) depth sensor |
| 🔋 Battery | 4200 mAh with 40W fast charging |
| | 27W wireless charging |
| | Reverse wireless charging support |
| 📱 OS | Android 10 with EMUI 10.1 |
| 🔐 Security | In-display fingerprint sensor |
| | Facial recognition technology |
| 📶 Connectivity | 5G, Wi-Fi 6, Bluetooth 5.1 |
| 💾 Storage | Available in various storage configurations |
| 🎨 Colors | Various color options |
| 📏 Dimensions | Approx. x.xx x xx mm |
| ⚖️ Weight | Approx. xxx g |
The Review
Huawei P40 Pro
Huawei P40 Pro There's no doubt that the P40 Pro is the best camera phone that we've seen so far is 2020, and shooting photos on the P40 Pro is both easy and satisfying. The phone has everything you need from a 2020 flagship and if you are okay with using Google App alternatives, we would definitely recommend this device to everyone who's looking for a powerful camera smartphone.
PROS
Nice design good price
Camera
Ram
Review Breakdown
Design

0

Display

0

Camera

0

Battery

0

Performance

0