We've all been there – you need to connect a new device to your Wi-Fi network, or you're helping a friend with their internet connection, and they ask for the Wi-Fi password. If you can't remember it, don't worry; there are a few easy ways to find your Wi-Fi password. In this guide, we'll walk you through the most common methods.
1-Method : How to know wifi password in Windows PC
By following these methods, you can quickly recover your Wi-Fi password, ensuring that you can connect your devices without any hassle.
Do you want to find the password of connected wifi in your or someone else's computer, if yes! So down Follow the steps mentioned. How to know wifi password
1. First of all do it on the network icon in your computer.
2. Now do it at the Open network and Sharing center.
3. Now go to Connection and tap on wifi. And Popup option in Wireless Properties Tax .
4. Now go to Security and click on Show Characters. Now you need your connected wifi Password will be known.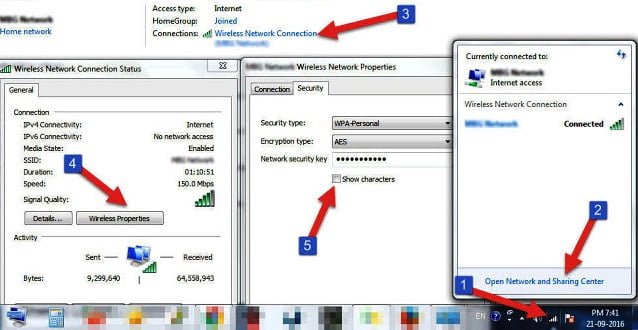 For Windows 10,12,16,2019
2- Method : Check the Router Label
One of the easiest ways to find your Wi-Fi password is to look at your router. Many routers come with a label that displays the network name (SSID) and the default Wi-Fi password. It's usually labeled as "WPA key," "WEP key," or "Password."
3- Method : Access Your Router's Web Interface
Open a web browser and type in your router's IP address. Common IP addresses include 192.168.0.1, 192.168.1.1, or 192.168.1.254.
Log in with your router's admin credentials. If you haven't changed these, you can usually find the default username and password in your router's manual or on the manufacturer's website.
Once logged in, navigate to the Wi-Fi settings section. You should find your Wi-Fi password there.
4- Method : Use a Wi-Fi Password Recovery Tool
If you can't access your router's web interface or the password isn't on the label, you can use a Wi-Fi password recovery tool. There are many free and paid tools available online that can help you recover saved Wi-Fi passwords from your device. Just be sure to download such tools from trusted sources.
5-Method : How to know wifi password in Mac On a Mac, you can retrieve your Wi-Fi password from the Keychain Access utility:
Open "Keychain Access" (you can find it in the Utilities folder within the Applications folder).
In the left sidebar, select "System" and then choose "Passwords."
Find and double-click your Wi-Fi network name.
Check the "Show Password" box and enter your Mac's admin password.
The Wi-Fi password will be revealed in the "Show Password" field.
Conclusion
Knowing your Wi-Fi password is essential for connecting devices to your network. Whether you find it on your router, in your device's settings, or with the help of a password recovery tool, these methods should help you retrieve your Wi-Fi password easily. Just remember to keep this information secure and only share it with trusted individuals.