In the fast-paced world of finance, staying ahead of the curve is essential. This is where GOC Technology comes into play, a dynamic team of Data Analysts with over 10 years of experience, driving innovation in India's top companies. With a mission to provide cutting-edge, AI-based software solutions for the financial domain, GOC Technology is shaping the future of fintech.
A Decade of Expertise with GOC Technology

GOC Technologies boasts a team of seasoned Data Analysts who have honed their skills over a decade. This wealth of experience positions them as leaders in the field, ready to tackle the most complex challenges in the financial industry.
Pioneering AI-Based Solutions
At the heart of GOC Technologies' mission is the commitment to deliver AI-powered solutions that revolutionize the way finance operates. By harnessing the potential of artificial intelligence, GOC is empowering financial professionals to make smarter decisions, faster.
Guided by Financial Experts with GOC Technology

GOC Technology understands the intricacies of the financial world. That's why they work closely with renowned financial advisors who provide invaluable guidance. This collaboration ensures that GOC's fintech solutions are not just innovative but also aligned with the industry's best practices.

A Suite of Solutions
GOC Technology offers a comprehensive suite of tools designed to empower professionals in the financial sector:
1. GOC Technical Course
Gain a competitive edge with the GOC Technical Course, designed to equip you with the latest skills and knowledge needed to excel in finance.
2. The Trader's Journey
Embark on the Trader's Journey, a roadmap to success in the financial markets, guided by GOC's expertise.
3. Chart Reading Course
Master the art of chart analysis with GOC's Chart Reading Course, a vital skill for every financial professional.
4. GOC Meter
Access the GOC Meter, a powerful tool that provides real-time insights and data analysis, giving you an edge in your financial decisions.
5. GOC Algorithm
Experience the future of algorithmic trading with GOC Algorithm, a cutting-edge solution designed to optimize trading strategies.
Nifty Insights
GOC Technology has a dedicated web page titled "Nifty," which appears to be closely related to the Indian stock market. This resource is a valuable asset for anyone navigating the complexities of Indian financial markets.
The Full Picture: GOC Technology
And what does "GOC" stand for, you might wonder? It stands for "Game of Charts," a fitting name for a company at the forefront of using data and analytics to conquer the financial world.
Contact Information of GOC Technology

If you're ready to embrace the future of finance with GOC Technology, you can reach them at:
Office Address: Shop No 2, Niraj Apartment, Sada Shiv Road, Kubernagar, Ahmedabad-382340
GOC Co Ltd (135160) Sector Technology
Msgoc Co. Ltd., headquartered in Gwangju, South Korea, is a renowned company specializing in the production and distribution of optical cables. With a global presence, the company caters to both the South Korean market and international clients. Msgoc offers a diverse range of optical cables to meet various needs.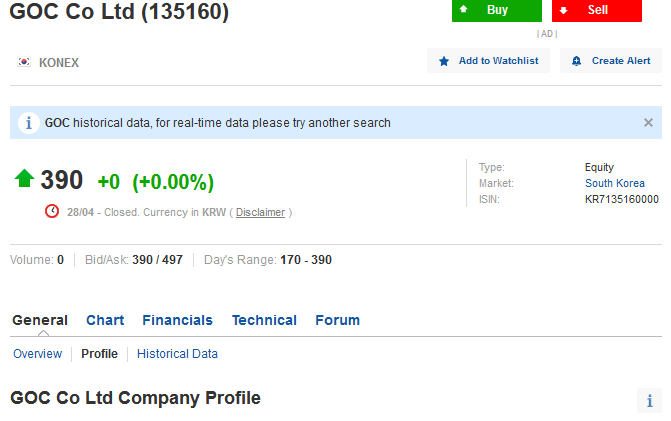 Diverse Cable Solutions
Their product portfolio includes indoor/outdoor cables, loose tube cables, and micro sheath cables, providing solutions for different applications. Msgoc is also a leading provider of FTTH (Fiber to the Home) cables, ensuring high-speed internet connectivity for residential customers. What sets them apart is their extensive lineup of special cables, which includes hybrid cables, emergency repairing optical cables, military tactical optical cables, dry core optical cables, steel-armored cables, and nuclear RR loose and indoor fiber optic cables. Additionally, they offer specialty optical patch and steel-armored duplex cords for versatile connectivity solutions.
Comprehensive Optical Technology
Msgoc Co. Ltd. doesn't stop at cables. They also supply optical components and accessories, such as PLC splitters and PLC CWDM (Coarse Wavelength Division Multiplexing) products, to enhance network efficiency. Moreover, they provide optical applied products like spectrometers and water quality monitoring sensors, further showcasing their commitment to the optical technology sector.
As of 28/04, the stock price of GOC Co Ltd (135160) was KRW 390. The company has a market capitalization of KRW 3.73B and 9,576,333 shares outstanding in 2023
A Rich History of Innovation
Notably, Msgoc Co. Ltd. has a history of excellence, having been founded in 2001 under the name GOC Co., Ltd. In June 2022, the company rebranded as Msgoc Co. Ltd., reflecting its growth and evolution in the industry. With a strong foundation and a diverse product range, Msgoc continues to be a key player in the optical cable and technology market, serving the needs of a wide range of customers globally.
Conclusion
GOC Technologys is not just a company; it's a catalyst for change in the financial industry. With a decade of experience, AI-driven solutions, and the guidance of financial experts, they are rewriting the rules of finance. Whether you're looking to enhance your skills or streamline your financial operations, GOC Technology has you covered.
Note
it's important to exercise caution when investing in GOC Technologys, as there isn't much data available on the internet about it. We primarily provide information, and we recommend thorough research and due diligence before making any financial decisions. Your investments should align with your financial goals and risk tolerance.