So today We Will Talk About AirtelTez Payment Bank
Airtel is a payment bank portal, you may already know this. But now it has been upgraded, which is a new portal, AirtelTez portal 2.0, you also know what facility you will get in this portal. And how to login, how to do it, you will get all this information here.
So this is the portal which is the retail portal of AirtelTez Payment Bank, so the interface of this portal should see the image below in this way. And a lot of new features has been upgraded in it. So let us know what is the feature in this portal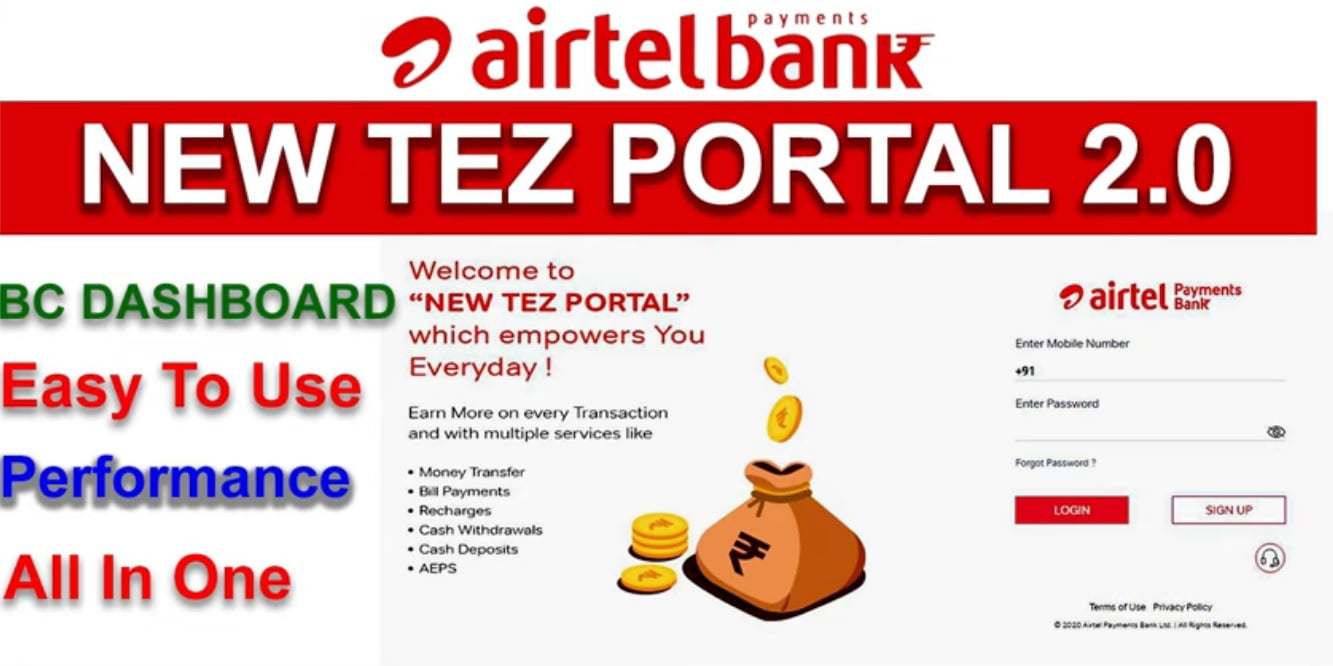 Money transfer
Bill payments
Recharge
Cash Withdraw
Cash Deposit
AEPS
For this, you have to enter your mobile number and password by login in. After login, an interface will open in which you can also see your current balance. And a lot of options will be seen, so first of all we go on banking. In this you get add balance money transfer cash withdraw cash deposit and many other options.
Pay Bill and Recharge
Click on this option, you can book gas and submit electricity bill. Can recharge mobile We can also recharge online.
Business Report
In this option, you can see the report of your Airtel Bank. You can avail all the benefits from Airtel Banking, we cannot tell you all the features together, you can understand it by using it, it is very simple.
How to Use AEPS in AirtelTez Portal 2.0
There is a very important function in it, in which I am going to tell you AEPS (Aadhaar Enabled Payment System) You must have heard its name for payment, so let us know it. How to do it in airteltez.
You first click on banking and then click on AEPS, after opening it, you will get to see the cash withdraw ,mini statement, balance inquiry, send to bank option.
Cash Withdraw by AEPS Suppose if you want to do cash withdraw for a customer, how did they do it. So first of all click on Cash withdraw and open it. After that, the customer's mobile number will be entered and then Aadhar will enter the number, will also put the amount. Which bank is it, will also add it and then enter your Airtel Mpin number and click on the processed and take the fingerprint of the customer. After that the transaction will become saturated and you can also print it out.
You can open form Airtel Official Online portal of the company
What Is FasTag Minimum Balance?