The Umidigi S3 Pro is a good smartphone phone. It weights 216.6 grams and has a thickness of 8.5 mm. The Umidigi S3 Pro has a 6.3 inches (16 cm) and 1080 x 2340 pixels display, which has an aspect ratio of 19.5: 9. It has 6.0 RAM and 128 GB inbuilt storage, which can be extended Up to 256 GB via microSD card. This Umidigi handset runs on Android v operating system and has a 5150 mAh battery to power the handset.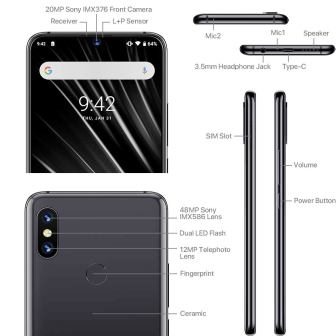 The phone has Octa-core (2.1 GHz, Quad-core, Cortex A73 + 2 GHz, Quad-core, Cortex A53) processor and Adreno Mali-G72 MP3 GPU. Talking about the camera, the Umidigi S3 Pro has a camera setup with aperture F2.0 with 20.0 megapixel primary and 48 MP + 12 MP megapixel secondary sensor. The phone supports 4G, 3G, 2G. Apart from this, there are also features like GPS, Bluetooth, Wi-Fi, and OTG.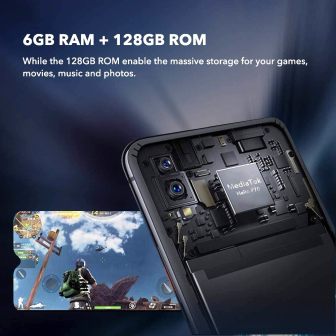 UMIDIGI S3 Pro – Hardware
MediaTek introduced the Helio P70 chipset, designed for the top of the mid-range, earlier this year. This chipset has been used in many Chinese phones since its introduction, so we now know that our expectations were not in vain, the Helio P60 did well. However, Mediatek did not stop and introduced the successor, which was named the Helio P70, in a relatively short time.
It can also be felt from the name that we cannot expect a significant change. This is true, but the changes and improvements that are included in the chip are still crucial because they significantly affect performance. For example, the manufacturer says energy-saving features have greatly improved. In practice, this means that energy consumption while running games can be reduced by up to 35 per cent compared to the P60. Besides, thanks to improved thermal management, the phone will become less warm while running performance-intensive programs.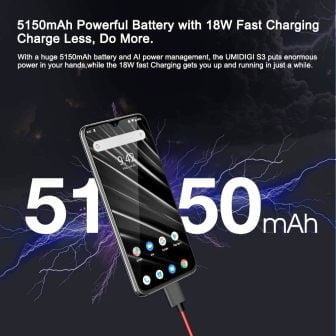 Processor and memory
As you can see, the P70 has evolved over the P60, but consuming less or warming up alone would not be enough for salvation. However, these two values needed to be improved for chip performance to increase. Lower energy consumption and less heat made it possible to increase the clock signals. As a result, the clock speed of the four powerful A73 cores could rise from 2.0 GHz to 2.1 GHz, and as a result, the clock speed of the integrated graphics accelerator, the Mali-G72 MP3 chip, could rise from 800 MHz to 900 MHz.
Another novelty is that the hitherto bad ISPs, i.e. image processors, have also improved. Already in the case of the Helio P60, the chip was prepared to be able to handle a pair of cameras with a maximum of 20 + 16 megapixels. In the case of a single camera, the 32 megapixels were not an obstacle either. With the P70, these values have been improved, allowing manufacturers to put up to a 24 + 16-megapixel pair in their phones. This increase has been fully utilised in the case of the UMIDIGI S3 Pro. However, as you will see, the resolution ratio of the main and auxiliary cameras is slightly different, better than the 24 + 16-megapixel solution.
The central chip memory manager also handles LPDDR3 and LPDDR4 memories. Fortunately, UMIDIGI has opted for a more powerful solution. Their new phone comes with 6 GB of LPDDR4X memory, which works in dual-channel mode and has a clock speed of 1800 MHz.
UMIDIGI S3 Pro display
The Umidigi S3 Pro is a mid-range phone, so we couldn't get an AMOLED display, as we're used to with competitors. Fortunately, IPS technology is also excellent; it has been at its peak for a long time because it has an outstanding contrast ratio, excellent blacks, and perfect viewing angles. Also, the backlighting of the panels is getting better, so we can't complain about the brightness either.
The UMIDIGI S3 Pro got a 6.3-inch IPS panel and got a substantially utterly frameless design. The display has an aspect ratio of 2.167: 1 and a resolution of 2340 x 1080 pixels. In addition to the 24-bit colour depth, this gives a high pixel density of 409 ppi. The front-panel display ratio doesn't reach today's top category, but as you'll see, the price, so the 83.4 per cent display-front panel ratio achieved in this way, is very honest.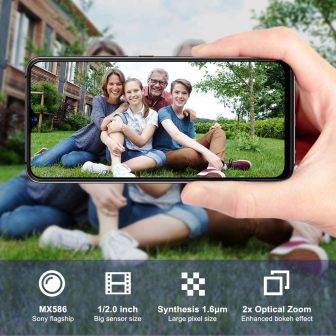 UMIDIGI S3 Pro – cameras
Nowadays, one of the most significant features of a good phone is that a good camera is included. Without how durable iron is, many people are considering buying it. The Umidigi S3 Pro can't complain about cameras because it's a perfect choice in both resolution and sensor manufacturers. Saving, as with other phone units, is not a thing of the past.
There are two cameras on the back. Of these, the primary camera uses the Sony IMX586 Exmor RS sensor with a resolution of 48 megapixels.
This will not be a problem here either, because the aperture value of f / 1.7 says that we get a great lens system for the phone. In the case of the two rear-panel cameras, it is essential to highlight that the central chip is already capable of creating a depth-of-wash effect at a rate of 24 frames per second, a value that has also increased significantly compared to its predecessor, the P70.
UMIDIGI S3 Pro Specification

Product

UMIDIGI S3 Pro, Dec-2018

Android 9 Pie

Display
FHD+ Waterdrop Full Screen, 6.3 inches, 2340 x 1080

16M, 409 ppi (pixels per inch), Touch Screen-Yes

Colour temperature adjustment Reading mode
19.5: 9 Waterdrop advanced in-cell LTPS Display

Camera
Camera-48MP,  IMX586 Sony flagship sensor

1080p, 720p video, 30fps, Dual LED flash

Front Camera -20MP

Hardware
MTK, Helio P70, 4xCortex-A73, 2.1GHz + 4xCortex-A53, 2.0GHz

ARM Mali G72 MP3 900MHz

6 GB Ram, 128 GB, microSD expansion memory cardSensors
P-Sensor, L-Sensor, Accelerometer, Gyroscope, Geomagnetic Sensor

Battery
5150mAh Powerful Battery + 18W Fast Charging, Non-Removable
Design
BarHeight:157 mm Width:74.65 mm Thickness:8.5 mm216.6 Grams

Dual SIM – Nano-SIM

Network
5G Yes

4G LTE Yes

LTE 700 MHz Class 17 LTE 800 MHz LTE 850 MHz LTE 900 MHz LTE 1700/2100 MHz LTE 1800 MHz LTE 1900 MHz LTE 2100 MHz LTE 2600 MHz LTE-TDD 2300 MHz

Connectivity

IEEE802.11 a/b/g/n/ac + Supports 5G Wi-Fi Signal / Wi-Fi Direct / Supports Wi-Fi DisplayType-C USB

NFC – Yes, Wireless Charging – No, Headphone Jack – Yes
The Review
UMIDIGI S3 Pro
The phone has Octa-core (2.1 GHz, Quad-core, Cortex A73 + 2 GHz, Quad-core, Cortex A53) processor. Umidigi S3 Pro has a camera setup with aperture F2.0 with 20.0 megapixel primary and 48 MP + 12 MP megapixel secondary sensor.
PROS
Nice design Good Price
Camera Quality Good
CONS
No Wireless Charging
No Waterproof
Review Breakdown
Design

0

Display

0

Camera

0

Battery

0

Performance

0