Error message: Input signal out of range.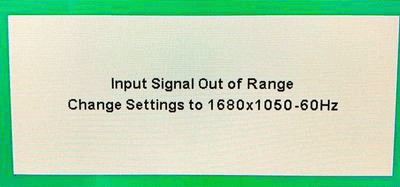 You will see it on the blank screen otherwise. Assuming that the data cable has been plugged correctly, the video card monitor can adjust the monitor feeding a signal stream. Two main reasons for this are that the user has either set a lot more resolution or vertical frequency. For example, you can set a new graphics card to display at 1,280 x 1,024, but if the monitor is only capable of resolution 1,024 x 768, you will get sync from the range error. It is especially common in the 14-inch monitor.
Solution:
How do you fix input signal out of range  in this article you will learn how to fix Screen Resolution problem. if you are facing to " input signal out of range " on your LCD/ Monitor; you can fix it easily;
1. Restart your Computer
2. Press the F8 key as your computer restarts Select "Safe mode" and press Enter
3. Right click my Computer ➣ properties➣ Device Manager
4. Disable Display Adopter
5 . Restart you computer in normal mode
6. Reenable display Adapter
7. now go to display setting change screen resolution to your requirement and save the setting. DONE
How to open Safe mode In Window 11, Windows 10 etc.
Note: If your monitor still displays the "Input signal out of range" error message after following the steps above, you may have a bad monitor or bad video card. Try one or both of the following options to determine if the monitor or video card is potentially bad.
Connect your monitor to another working computer. If the monitor works on another computer, then your computer may have a bad video card.

Borrow a working monitor and connect it to your computer. If that monitor works, then your monitor is likely bad and should be replaced. If that monitor does not work as well, then your computer likely has a bad video card.
---
Download Gameloop Latest Version | Gameloop Offline Installer
How to set up voicemail on iphone 11