Microsoft Support and Recovery Assistant (SaRA) is a powerful tool designed to help users troubleshoot and resolve common issues with Microsoft Office 365 and Outlook. Whether you're experiencing problems with email, calendar, or other Office 365 applications, SaRA can be your go-to solution for diagnosing and fixing issues. In this article, we will explore what Microsoft SaRA is, how to use it effectively, and where to download this indispensable tool.
What's Microsoft SaRA
So, what exactly is SaRA? Think of it as your digital detective, designed by Microsoft to make your life easier. SaRA is there to help you troubleshoot and sort out the common headaches that come with Office 365, like email and calendar problems. It's your virtual problem-solver.
Using Microsoft SaRA: Step-by-Step Guide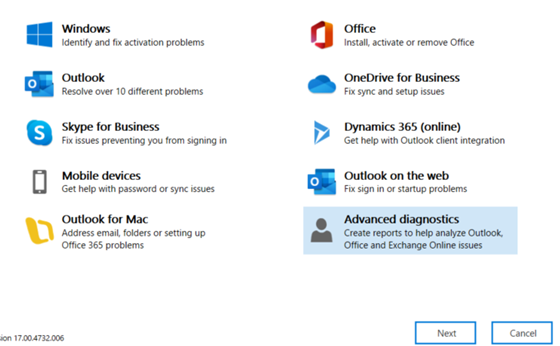 Let's get down to the nitty-gritty of how you can make the most of SaRA:
1. Download SaRA:
First things first, you need to get your hands on SaRA. Don't worry, it's a free tool, and you can download it from Microsoft's official website. Just head over to the SaRA download page, and you're on your way.
2. Install and Launch:
Once it's downloaded, install SaRA on your computer. After that, give it a click to launch. It's all about to get smoother from here.
3. Select the Problem:
Now, SaRA will give you a menu of common Office 365 issues to choose from. Pick the one that matches your current struggle. Maybe it's "Outlook won't start" or "Can't send or receive emails." Just click on your issue.
4. Follow the Wizard:
SaRA will be your guide throughout the process. It might ask you to sign in with your Office 365 account, so have your login info handy. Then, let the wizard lead the way.
5. Diagnostic and Repair:
Here comes the magic. SaRA will run a diagnostic check to pinpoint the problem. Depending on what it finds, it might suggest manual fixes or just go ahead and make the repairs automatically.
6. Review and Confirm:
Check out what SaRA recommends to solve your issue. If it looks good to you, hit the confirm button, and let SaRA work its magic.
7. Completion:
After the repairs are done, SaRA will give you a rundown of what it did. And guess what? You can even leave feedback on your experience. It's all about making it better for everyone.
Download Microsoft SaRA
Now, you might be wondering, where can I get my hands on SaRA? Well, it's a breeze:
Open Microsoft's official Support website.
Use the search bar to look for "Support and Recovery Assistant" or simply go to the SaRA download page.
You'll be asked to choose the version of SaRA for your operating system, whether it's Windows or macOS.
Download it and follow the instructions to install it. Easy peasy!
Conclusion:
So there you have it, folks! Microsoft SaRA is your trusty companion for tackling Office 365 hiccups, especially those involving Outlook. It's user-friendly, and with this guide, you can confidently navigate the world of troubleshooting. Head over to the official Microsoft Support website, grab your SaRA, and never let those tech troubles get the best of you. SaRA is here to save the day, making your Office 365 experience smoother and stress-free. Happy troubleshooting!